The 2018 Eurasian Grassland Conference will take place from 4th to 8th June 2018 in Sulmona, a town in the heart of Italian Apennines. It will be the 15th annual conference of the EDGG, which aims to promote exchange and collaboration between those interested in all aspects of semi-natural and natural grassland research and conservation across Palaearctic biogeographical realm.
To register for the conference, please log in or create an account first.
Important dates
Conference dates: 4th – 8th June 2018
Registration starts: 23rd February 2018
Deadlines for abstract submission and travel grant application: 31st March 2018
Deadline for the registration and payment: 30th April 2018
Main topic of the conference
Cooperating for grasslands: from habitat interpretation to  conservation measures
Grasslands are being addressed by a high number of projects aimed at conserving their biodiversity and the wide range of ecosystem services they provide. Still these projects are jeopardized by the challenges that derive from grasslands intrinsic features: the fine grain at which they should be analysed, the complexity that derives from their extraordinary biodiversity and variability, and their tendency to change rapidly in response to various natural and human drivers. Although local information is particularly important, a set of shared principles, methodologies and procedures would make the efforts to maintain grasslands across the Eurasian continent substantially more effective. The topic of the conference is therefore to address the main grassland conservation issues by establishing a basis for cooperation projects within the framework of the EDGG. The subtopics that are described below aim at stimulating exchange of local and national experiences that represent an example for effective cooperation projects.
Subtopics
1. Habitat classification and indicators of conservation status
This session will cover grassland habitat classification, and the assessment of habitat conservation status by means of specific indicators. For habitat classification, a special emphasis will be on the potential use of the large number of vegetation relevés stored in European and global databases. Similarly, special focus will be given on widely applicable approaches for the identification of appropriate indicators of habitat conservation status.
2. Grassland threats and pressures
Land abandonment, invasive alien species, and climate change are among several important threats to grassland habitats and species. However, how these threats change in relation to environmental conditions and land use legacies is still unclear. This gap in knowledge does not allow to define the practical steps that can be developed to increase resistance and resilience across the Eurasian continent. Large scale cooperation may represent a huge opportunity to assess threats through standardized monitoring and survey protocols, as well as to align a framework of threats and pressures for grassland habitats.
3. Conservation goals and appropriate measures
Grassland conservation projects focus on goals related to target species and habitats, but the effectiveness of conservation measures to achieve these goals is often a topic of debate. Conservation goals and measures should be integrated into wider society by positively engaging stakeholders, respecting cultures and the role of traditional knowledge, as well as the economic value of managing habitats and their ecosystem services. Conservation planning should therefore be framed in wider contexts and take into account other plans (such as forest plans, river plans, park plans, etc.). By comparing experiences and approaches with integrated management planning and stakeholder engagement, this session will indicate which factors should be considered to achieve good governance models.
 4. Setting conservation priorities
Appropriate choice of priorities of sites/habitats to conserve or restore is essential in order to maximize the effort and money spent. Specific analyses should take into account how priorities can be different at different scales, and should therefore be addressed through a wide range of prioritization methodologies, from spatial analysis to a synthetic analysis of different habitats that will be addressed during this session.
5. Session: Cooperating for grasslands
During the last session four working groups will address the four session subtopics to brainstorm transnational cooperation projects within the EDGG.
Open topics
Submission of abstracts on any other topic related to Palaearctic grasslands, their fauna, flora, ecology and conservation is possible, although such contributions do not have priority for the slots of the oral sessions.
Preliminary time schedule
June 4th
10.30 - 13.30              Workshop "Effective writing for international peer-reviewed journals"
14.30 - 18.00              Workshop on preparing proposals for LIFE+ and INTERREG
18.00 - 20.00              Welcome drink
June 5th
9.30 – 10.00               Keynote lecture – Prof. Pietro Brandmayr "Carabid beetle                                      assemblages in natural and seminatural grasslands of  Italy:                                                management and conservation"
10.00 - 12.30              Session 1 - Habitat classification and indicators of conservation                                     status
12.30 - 13.30              Lunch
13.30 - 16.00              Session 2 - Grasslands threats and pressures
16.00 - 19.00              Session 3 - Conservation goals and appropriate measures
June 6th
8.00 - 18.30                Mid-conference excursion
June 7th
9.00 - 9.30                  Keynote lecture – Prof. Carlo Blasi "High mountain vegetation of                                            the Apennines"
9.30 - 12.00                Session 4 - Setting conservation priorities
12.00 - 13.00              Lunch
13.00 - 14.00              Poster session           
14.00                          Transfer to National Park Operation Center
14.30 - 17.30              Session 5 - Cooperating for grasslands
17.30 - 18.30              EDGG General Assembly
20.00 - 22.30              Grassland Party at the National Park Operation Center
June 8th
8.00 - 18.30                Post-conference excursion
Venue
The conference will take place in the Auditorium of the Annunziata, in the very heart of the town of Sulmona (25,000 inh.). The town is located in the Valle Peligna, a plateau once occupied by a lake that disappeared in prehistoric times. The center of the town is characterized by Piazza Garibaldi. This square, limited at one of its sides by a XIII century aqueduct, has a stunning view of Monte Morrone (2061 m. a.s.l.), and it is one of the largest squares in Italy. It hosts important events and ceremonies and a traditional market on Wednesdays and Saturdays.
Sulmona is known for being the native town of the Latin poet Ovid, and for being the home of the Italian confectionery known as "confetti". Please find detailed information about the venue, travel and accommodation on the Venue page.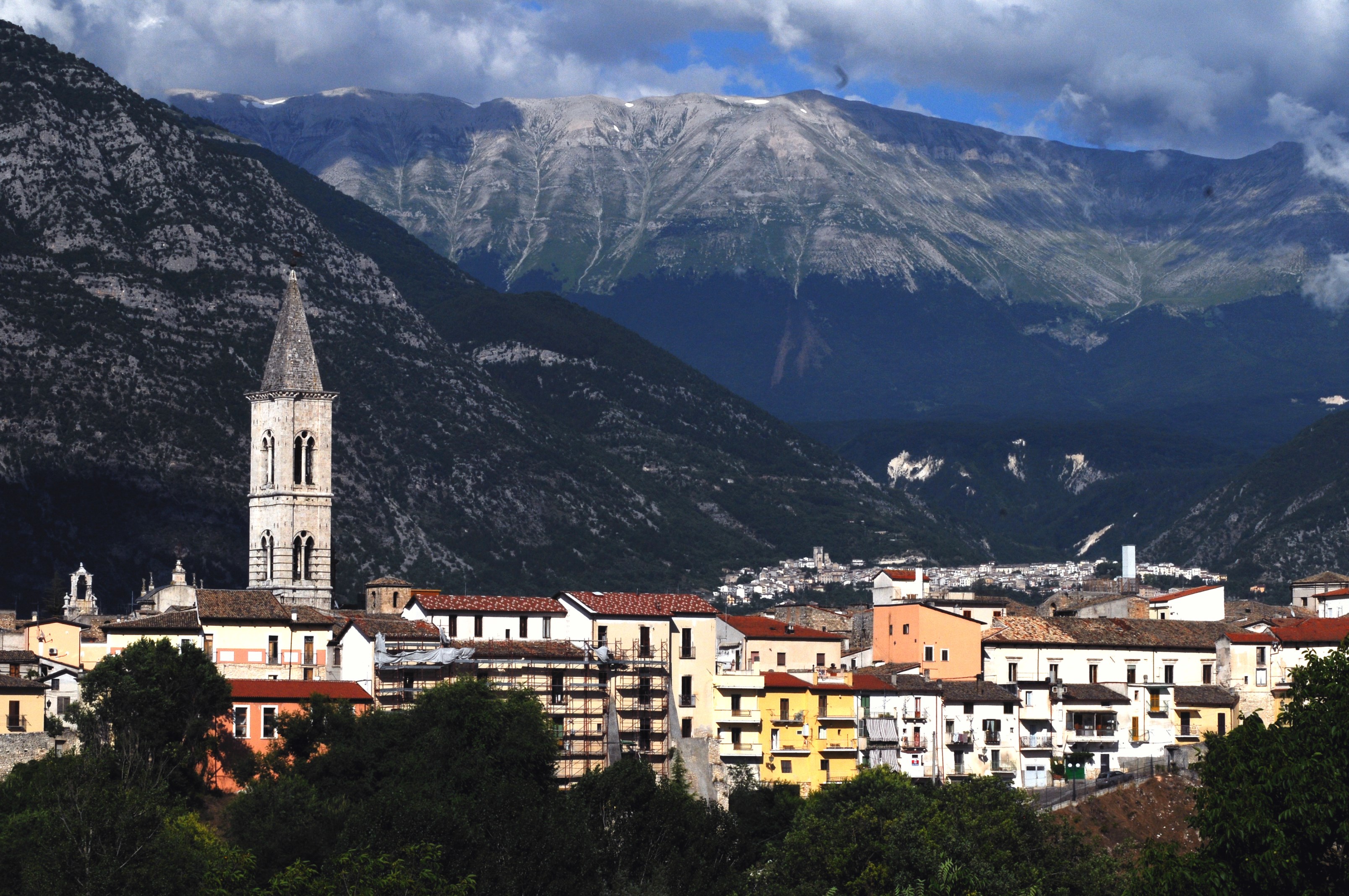 Grants
Thanks to our supporter (IAVS), we can offer a limited number of travel grants to attend the EGC (partial or full coverage of travel costs and conference fee). To qualify, active participation at the conference (oral presentation or poster) is required and priority will be given to young scientists with financial constraints. (i.e. low income and/or particularly high costs to get to Sulmona).
If you wish to apply for financial support, you first need to register yourself and the abstract of your contribution in the online form, and provide the necessary information for travel grant application including a motivation letter. Applicants must be IAVS members (membership can be obtained at low rates and in many cases even for free at http://www.iavs.org/MembershipRenew.aspx, http://www.iavs.org/AwardsFinancial.aspx). In both cases, applications will only be considered when the criteria are met and the required information is provided completely.
Conference publications
As in previous years, there will be Special Features (SFs) with selected contributions from the conference in international, peer-reviewed journals, guest-edited by EDGG members. Notably, a Special Feature in Tuexenia 2019 and a Special Feature in Hacquetia 2019 have already been approved.
Young Investigator Prizes
As in previous years, prizes will be awarded to young scientists for excellent presentation of their research (talk or in poster form). For these purposes, young scientists (less than 35 years old) will be asked during registration if they wish to participate in the contest.